Gohan is Goku's first son. He has a wife named Videl. He's the older brother of Goten. He has a daughter named Pan . He was named after Goku's adoptive grandfather, Gohan. He's a hybrid Saiyan.
Early Life
Edit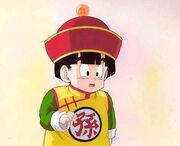 Gohan was born on May 11th, 757 Age, about a year after Goku and Chi Chi married following the conclusion of the 23rd World Martial Arts Tournament. As a newborn he went on for a time without a name until Goku's grandfather's name was mentioned, which Gohan liked. His early childhood was a pampered one, unlike his father's. His life was relatively well-balanced with a loving family and a nice home. Gohan was well-adjusted and intelligent, but unlike his father as a child, he lacked any affection for fighting and was easily scared at a level that most normal children would be. Goku gave Gohan the four star Dragon Ball and put it into a hat for him to honor his grandpa.
Dragonball Z Sagas
Edit
Gohan is a shy and studious intellectual, and as a child, he lacks the Saiyan fighting spirit. He must utilize his incredible half-breed Saiyan potential and emotional reserves to protect those he loves, becoming one of the most powerful Z Fighters. As an adult, he abandons his superhero duties and uses his mind, as a premier scholar of the Dragon World.
Saiyan Saga
Edit
Despite Goku's protests, Chi-Chi home-schooled Gohan to be a scholar until he was four, before Goku took him to Kame Island to introduce him to M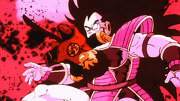 uten Roshi, Bulma and Krillin. At this time, he is shown as a shy but very smart boy who also has a tail like Goku once had. Goku's brother Raditz soon arrived looking for his brother, and kidnapped Gohan. It was during this time that Raditz discovered that Gohan was potentially far stronger than Goku himself.
During the battle between Goku, Raditz, and Piccolo, Gohan became angry and broke free of the space pod he was being held captive in. He delivered a devastating blow to Raditz, giving Goku and Piccolo time to kill the evil alien, though Goku died in the process as well.
After the battle with Raditz, Piccolo, having seen Gohan's power first hand, decided to take Gohan out training in the wilderness. He left Gohan alone to survive against dinosaurs and other dangers for six months, though during this time he watched Gohan carefully. For the rest of the year, Piccolo showed no mercy as he taught Gohan how to fight. While training, Gohan accidentally looked at a full moon and transformed into a great ape. Piccolo then destroyed the moon causing Gohan to revert back into his normal form. Soon Gohan's bright and cheerful nature made Piccolo protective over the young boy. When the time came for the Z Fighters to take on the remaining two Saiyans, Vegeta and Nappa, Gohan was able to control his fear but at times his age caught up with him, and he became frightened.
When Nappa fired a lethal energy blast at Gohan, Piccolo threw himself in front of Gohan and took the impact. Gohan was deeply angered by Piccolo's death and in turn fired a powerful Masenko at Nappa, which did some damage to his arm. Later on, after Vegeta turns into a Great Ape and injures the resurrected Goku, Gohan himself transforms into the Great Ape form, defeating Vegeta by landing on him after his tail is cut off. Afterwards, Goku lets Vegeta go, hoping to one day face him again.
Journey to Namek
Edit
Gohan chose to go to the Planet Namek with Krillin and Bulma to gather the Namekian Dragon Balls to bring back his friends back to life, because Piccolo's death caused the Earth's Dragon Balls to turn to stone. Gohan was on a personal mission to wish back Piccolo and went so far as to wear a copy of Piccolo's dōgi to honor him.
After their long trip, they finally make it to Namek where they find out Vegeta has also come seeking the Dragon Balls, along with his former far more powerful boss, Frieza. While scouting the planet with Krillin he spots Frieza and his minions tormenting Namekian villagers. When Gohan sees Dodoria, one of Frieza's top henchmen, attack a little Namekian child named Dende,
he goes out and attacks him. Afterwards Dodoria chases Gohan, Krillin and Dende, but they eventually lose him and Vegeta kills Dodoria. Dende leads Gohan and Krillin to Guru, the ruler of the Nameks, where he unlocks both of their hidden potential. Later, Vegeta decides to have a temporary alliance with Gohan and Krillin to fight against the Ginyu Force to get all the Dragon Balls. Unfortunately, when they gathered all of the Dragon Balls, they were ambushed by the Ginyu Force. The weakest of them, Guldo, was to take on Krillin and Gohan, but failed as Vegeta stepped in and decapitated him with his hand.
Then, when Vegeta was fighting a losing battle against Recoome, Krillin and Gohan stepped in and fought, but it was still not enough until Goku showed up. Goku took on the rest of them, but had his body switched by Captain Ginyu. With Goku completely weak in Captain Ginyu's body Gohan had to try to fight Captain Ginyu in his father's body (although he was initially reluctant to do so, despite knowing it isn't his dad, as he still feels he is injuring his dad by doing so). After Captain Ginyu ended up in a frog's body Gohan and the others gathered the Namekian Dragon Balls and wished for Piccolo to be brought back to life on Namek.
Shortly after, Frieza ambushed them, making them stall for Piccolo to come. In the Z-Fighters's battle against Frieza's second form, Krillin is injured by the tyrant and is sent into the depth of the water below. Gohan rushes to save his friend from drowning, but Frieza stops him. Getting angry, Gohan attacks Frieza with a barrage of punches and kicks and unleashes a massive wave of energy blasts that brings the tyrant to his knees.
When Piccolo (now greatly powered up after fusing with the Namekian hero Nail) arrives on the battle field, he fights an even battle against Frieza while Gohan and the others watch in amazement. However, Frieza transforms into his third transformation and gains the upper hand against Piccolo. Seeing this, Gohan becomes enraged and attacks Frieza with a huge and powerful bolt of energy, hindering Frieza for a few minutes. Eventually, Frieza manages to deflect the attack back at Gohan, who is saved by Piccolo when he destroys the attack with a ki blast. Frieza then transforms into his final form, and as his first act, kills Dende, who had been healing the Z-Fighters. Frieza then tries to kill Gohan with a Death Beam, but Vegeta saved the young Saiyan by punching him out of the way of the blast. Gohan, Krillin, and Piccolo watch in horror as Vegeta gets brutally beaten by Frieza until Goku arrives. In the end, Vegeta meets his end at the hands of Frieza, who kills him with a Death Beam.
Gohan and the others are left on the sidelines while Goku fights an even battle against Frieza. However, things turn bad when Frieza powers up to 50% of his power and gains the upper hand against Goku, who desperately attempts to use the Spirit Bomb. In order to buy Goku some time, Gohan and Krillin lend their energy to Piccolo so he can stall Frieza enough for Goku to complete his Spirit Bomb. It proves successful and Frieza is plummeted into the depths of the Spirit Bomb, heavily injuring him.
Believing the tyrant to be dead, the heroes relax and prepare to go back home to Earth, until Frieza appears on top of a boulder and reveals to be alive. Frieza mortally wounds Piccolo (in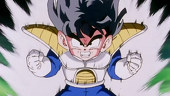 the anime, Frieza attempted to kill Goku, but Piccolo pushed him out of the way, whereas in manga, Frieza intended to fire the attack at Piccolo), overwhelming Gohan with horror and grief at the presumed death of his mentor and friend. Next, Frieza kills Krillin, enraging Goku and allowing him to transform into a Super Saiyan. He yells at Gohan to take Piccolo and retrieve Bulma and take them to the ship that he traveled in and use it to head back to Earth. Reluctantly obeying his father's wishes, Gohan leaves the battle field with the unconscious Piccolo and manages to retrieve Bulma.
Later, when he senses that is father is supposedly dead, Gohan returns back to the fight to stall Frieza before Planet Namek explodes. However, despite his best efforts, he is unable to stall Frieza as the tyrant taunts him and he is not fighting. However, Gohan then senses that his father is still alive and powers up. Next, Gohan attacks Frieza with a barrage of punches and kicks, knocking him to the ground and finally blasting him with a Super Masenko. Unfortunately, Frieza appears unaffected by the attack and powers up to full power again, saying that Gohan is a true Saiyan and that is why Frieza must kill him. However, before Frieza can kill Gohan, Goku rises up from the ocean below and tells Gohan to get off Planet Namek. Gohan flies away from the fight and encourages his father to win. As Gohan is flying back to the spaceship, he and the others are later transported to Earth while Goku is left finishing the battle with Frieza on the dying Planet Namek.
After Goku wins the battle, but is caught Planet Namek's explosion, Gohan and the others mourn the Saiyan warrior's death. Months later, they are allowed to use the Namekian Dragon Balls to wish Goku back to life. However, they are shocked after the Eternal Dragon Porunga refused the wish that Goku be brought back to life, but everyone rejoiced once the Dragon explained that Goku did not die from Namek's explosion. During this time of peace, everyone awaited the arrival of Goku, and Gohan went back to his studies while Piccolo watched over him and his mother.
Garlic Jr. Saga
Edit
While everyone on Earth was waiting for Goku to come back, Garlic Jr. escaped from the Dead Zone and enslaved most of humanity with the Black Water Mist. Gohan, who was unaffected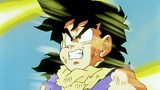 due to hiding in a cave with his dragon friend Icarus, is forced to travel to the lookout point to save his mother and friends, together with Piccolo, Krillin and his new girlfriend Maron, who is left at Korin Tower. He had to do battle with Garlic Jr.'s henchmen, the Spice Boys, and after taking them down, he had to face his friends: Krillin and Piccolo. Luckily, it turned out that these two were only pretending to be evil so they could free Kami and Mr. Popo. While outmatched at first, after a reunion with his friends Gohan eventually manages to overcome and send Garlic Jr. back to the Dead Zone by blowing up the Makyo Star that was powering the villain. This would be the first time Gohan had saved the world without his father's help.
Trunks Saga
Edit
A year later after Goku defeated Frieza on Planet Namek, Gohan, and Chi-Chi still wait for Goku's safe return back to Earth. However, things turn bad when the Z-Fighters sense Frieza heading towards Earth, along with another power being: his father, King Cold. Gohan and the Z-Fighters regroup where Frieza and King Cold's spaceship is landing, but without Goku's help, the Earth appears to be doomed.
However, when Frieza and King Cold land on Earth, they are confronted by a mysterious youth, who transforms into a Super Saiyan and easily destroys Frieza and King Cold along with
their henchmen. After the fight, he tells the others to follow him to when and where Goku will be arriving. After waiting two hours, Goku arrives on Earth and he and the youth have a private talk.
The mysterious youth reveals himself as Future Trunks, the son of Bulma and Vegeta from, who has traveled from the future and explained that a pair of deadly Androids will appear and threaten the Earth in the next three years. Future Trunks then gives Goku an antidote for the heart disease he will soon contract. With the conversation over, Future Trunks departs to his future, but promises to meet them again when the Androids arrive. During the next three years, Gohan trains hard with Goku and Piccolo to prepare for the Android threat.
Android Saga
Edit
Three years later, the Z-Fighters locate the Androids on an island nine miles south of South City. However, not wanting to fight in the city in fear of causing more damage, they fly to a wasteland so they can fight. Goku transforms into his Super Saiyan form and dominates Android 19, until the Saiyan contracts the heart virus Future Trunks warned him about three years prior, allowing Android 19 to gain the upper hand and almost steal Goku's energy. Goku, however, is saved by the arrival of Vegeta, who transforms into a Super Saiyan hi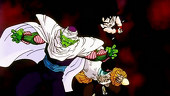 mself and easily destroys Android 19 while the Z-Fighters watch in amazement.
Seeing his android destroyed, Android 20 (a.k.a. Dr. Gero) becomes scared and retreats, with the Z-Fighters in pursuit. During the search, Piccolo is suddenly ambushed by Android 20, who attempts to steal the Namekian's energy and use it against Vegeta. Luckily, Piccolo telepathically contacts Gohan and tells him to come help him. Gohan soon arrives and knocks Dr. Gero down to the ground, saving Piccolo's life as the Z-Fighters gather around. Piccolo then fights Android 20 alone and dominates the android with the strength he achieved from the last three years of intense training. Future Trunks then comes back from the future and arrives on the battle field with the Z-Fighters, only to discover that these Androids are not the ones in his future timeline.
However, Android 20 manages to escape and the Z-Fighters search for him while Gohan flies Bulma, Baby Trunks, and Yajirobe back home to Capsule Corp. Dr. Gero makes it back to his lab and activates two of his more powerful Androids, Android 17 and 18. However, the Androids rebel and kill Dr. Gero and proceeded to activate another android, Android 16, whose sole purpose is to kill Goku. The Z-Fighters battle the new Androids, only to be badly beaten as the Androids fly away to find and kill Goku.
Imperfect Cell Saga
Edit
When the Z-Fighters are in an airplane with a weakened Goku, flying away from the Androids, Gohan and Future Trunks leave and meet with Bulma to investi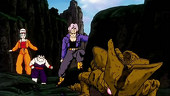 gate an old time machine that was used to travel to the past. The time machine is covered in moss and has a large hole at the top. In there, they find egg shells split in half, but can't get any conclusions from it. Then, Gohan finds some thing unusual in the distance: the skin of a huge bug (later known as the android, Cell). Bulma takes the shell with her to do some more investigating.
After Goku is cured from the heart virus, he takes Gohan, Future Trunks, and Vegeta up at Kami's Lookout, where they are shown by Mr. Popo a special room up at Kami's Lookout, known as the Hyperbolic Time Chamber, in preparation for a new threat: Cell. In the Hyperbolic Time Chamber, Future Trunks and Vegeta both enter the room first for the whole day while Goku and Gohan wait and and sense that Piccolo (now fused with Kami and returned to the being nameless Namek) is fighting against the Androids. Gohan tries to go down to Earth and help Piccolo, but Goku doesn't let him go and explains he is not strong enough and will only get in Piccolo's way. Goku tells Gohan as soon as they get their training done, they will go down to Earth and help Piccolo.
Later when Piccolo was nearly killed by Imperfect Cell, who arrived on the battle field between Piccolo and Android 17, Goku and Gohan sense Piccolo's energy disappear. Believing his mentor to be dead, an enraged Gohan tries to go down the Earth, but is held and calmed down by Goku. Still angered, Gohan flies up into the air and tries to escape from the Lookout, but is knocked down to the ground by Goku. As Mr. Popo rushes to help him, he explains to Gohan that Goku is hurting inside too and is even more angry than Gohan about Piccolo's death. Gohan and Goku apologize to each other for their actions, and Goku promises that he won't let Piccolo's sacrifice be in vain.
Perfect Cell Saga
Edit
After Cell absorbs Android 17 and achieves his Semi-Perfect form he is about to set his sights on Android 18 when Tien arrives and attacks Cell with his Neo Tri-Beam, allowing Android 18 and 16 (who was injured by Semi-Perfect Cell) to escape. Goku and Gohan sense Tien's energy decreasing and he finally collapses from exhaustion. Just before Semi-Perfect Cell can kill Tien, Goku uses Instant Transmission to appear on the battle field. He grabs the barely alive Tien and Piccolo and teleports back to the Lookout, where they are fully healed with a Senzu Bean. Piccolo explains that despite their best efforts against Semi-Perfect Cell, they proved useless. At that moment, Mr. Popo interrupts and brings the group to the Hyperbolic Time Chamber, where Future Trunks and Vegeta emerge stronger than ever. They are given new Saiyan armor by Bulma (who by this time already arrived) and fly down to the Earth to confront Semi-Perfect Cell. While Vegeta and Future Trunks fight Semi-Perfect Cell, Goku and Gohan enter and train in the Hyperbolic Time Chamber while wearing some new Saiyan armor made by Bulma. In the Hyperbolic Time Chamber, Gohan struggles to transform into a Super Saiyan. Goku informs him that to become a Super Saiyan, it must come in response to a need, not a desire. Gohan realizes the only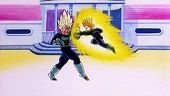 way to become a Super Saiyan is for his father to fight him at full power. Hesitantly, Goku transforms into a Super Saiyan and fires a powerful Kamehameha at Gohan. Gohan blocks the attack and thinks about all the other times he wasn't able to help his friends whenever they were in danger while his friends helped him out if he was in danger. Thinking about this, Gohan overwhelms with rage, allowing him transform into a Super Saiyan and fire the Kamehameha back at Goku, who dodges the attack and tells his son to focus his energy, making him return to his base form. Goku tells Gohan they can take a break and even gives his son a haircut.
Later, Gohan again transforms into his Super Saiyan form and trains while Goku sits down and watches his son's training in his Super Saiyan form improve. Gohan gets tired and transforms back into his base form when Goku demonstrates the Ascended and Ultra Super Saiyan forms (which are the forms that Vegeta and Future Trunks are using against Cell, who by this time had achieved his perfect form by absorbing Android 18). Seeing this incredible strength and power, Gohan is sure Goku can beat Cell, but Goku says he can't. He explains that because his muscles are now bulky, they slow down his speed, the thing he needs to defeat Cell. Goku tells Gohan that transforming into a Super Saiyan takes a great deal of energy, but need all the Super Saiyan energy they can get. Goku comes up with a plan to make turning into a Super Saiyan feel natural, so he tells Gohan to try and stay transformed as a Super Saiyan for the whole day when it starts to feel normal.
Cell Games Saga
Edit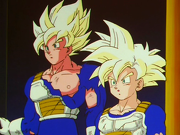 With their training finally completed, Gohan and Goku emerge from the Hyperbolic Time Chamber as Full-Power Super Saiyans. As Goku and Gohan are eating food made by Mr. Popo (because they don't really know how to cook when they were in the Hyperbolic Time Chamber), Future Trunks, after being defeated by Perfect Cell along with his father Vegeta, tells them that Perfect Cell is hosting a tournament for the Earth's strongest warriors called the Cell Games, to which Goku thinks of it as an interesting challenge. While Goku wears his trademark orange and blue clothes for the tournament, Gohan asks Piccolo for a copy of his his uniform, since he was his first mentor. Piccolo conjures up a uniform similar to his for Gohan, who happily appreciates the new outfit. Goku pays Perfect Cell a visit using Instant Transmission, and after returning, he claims he is no match for the android. Piccolo suggests they can still go in the Hyperbolic Time Chamber for extra training. However, Goku declines and says that he and Gohan can train outside the Hyperbolic Time Chamber, greatly suprising everyone. Goku and Gohan leave the Lookout, (after Goku and Gohan show Korin and Yajirobe their new power) and arrive at the Kame House to pick up Chi-Chi so they can go home. Gohan asks his father if they have a chance of beating Cell if they spend the next nine days resting and training outside. Goku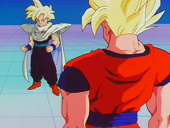 laughs and says they don't have to worry about it now, since they have nine days to relax. Gohan and Goku go inside and meet everyone else (at one point, Oolong and Puar even say that Gohan has, "buffed up.") However, when Chi-Chi sees Goku and Gohan, she freaks out and exclaims that Gohan has become a hair dying punk.
In a filler episode, Gohan flies to a village called Chazke Village to run a shopping errand for his mother. He meets Lime and Mr. Lao there and later encounters one of his father's deadliest enemies in his childhood: Mercenary Tao, rebuilt as a cyborg. Taken over by panic and shock at discovering Gohan is Goku's son, Mercenary Tao flies away on a tree. Goku arrives and he and Gohan are given the groceries by Mr. Lao, who encourages them that they can defeat Cell. Gohan and Goku say their goodbyes to Mr. Lao and Lime and fly back home.
In another filler, Gohan has his 11th birthday and all of his other memories are revealed. One of his memories include Goku, Chi-Chi, and the Ox King discussing a name for their newborn son. However, when they mention Grandpa Gohan, Goku's deceased adoptive grandfather, they discover the baby laughs at the name, "Gohan." Seeing as the baby likes the name, "Gohan", Goku, Chi-Chi, and Ox King name the baby, "Gohan." In another flashback Goku, Chi-Chi, and Gohan are walking in the woods when they look up in a tree at a bird family. However, Goku accidentally lets go of Gohan's stroller, causing Gohan zoom violently down the hill while Goku and Chi-Chi run for their lives after their crying son. The stroller jumps over a ravine and heads for a tree where it crashes and breaks. The crying Gohan is about to smash into the tree, but he stops crying and uses his hidden power to smash through the tree without injury. Goku catches Gohan on the other side of the tree and he laughs, ending the flashback.
Gohan, Goku, and Krillin return home, where they, along with Chi-Chi and Ox King, celebrate Gohan's 11th birthday. Before he blows out the candles, Gohan makes a wish in his mind. He wishes he would have enough strength to defeat Cell so his family would live in peace. However, when Gohan blows out the candles, he accidentally ends up blowing the cake everywhere on everybody's face. Chi-Chi says a boy would get severely punished for trashing his birthday cake. However, Chi-Chi's mood changes to happy and she says he can't help it because he's Goku's son, to which everyone joyfully laughs.
Finally, ten days have passed and the Z-Fighters arrive at the Cell Games for the battle against Perfect Cell. Goku is the first Z-Fighter to battle against Perfect Cell and matches the monster blow for blow. To everyone's surprise, Goku forfeits the battle against Perfect Cell after using the Instant Kamehameha (a combination of the Instant Transmission and
Kamehameha) which left him and Cell drained. Goku then chooses Gohan to fight Perfect Cell in his place. Gohan states Goku and Cell's battle wasn't that good, leading to the conclusion that Gohan is much stronger than Goku, who was fighting at full power.
Gohan powers up to the point where his power exceeds even Goku's and reluctantly fights Perfect Cell. As the battle occurs, Gohan does not have the same fighting spirit as his father, allowing Perfect Cell to gain the upper hand. Gohan tells Cell that once he becomes enraged, his hidden power is unleashed, referring to when he attacked Raditz, when he was in training with Piccolo, and when he was fighting Frieza. Gohan did not wish to see this power unleashed, much to Perfect Cell's chagrin. Believing he could see this hidden power, Perfect Cell began smacking Gohan around to get him angry. Gohan finally gets a little angry and kicks Perfect Cell in the face, giving him a bloody lip and fueling his desire to see Gohan's hidden power. When things start to get dangerous, Android 16 sneaks up behind Perfect Cell and gives him a bear hug, attempting to self-destruct and take the monster with him. However, Krillin reveals to Android 16 that Bulma and her father removed the self-destruct bomb, allowing Perfect Cell to break free and blast Android 16 to bits, much to the horror of the Z-Fighters. However, the android's head is left still intact and rolls over to Hercule and his gang, who were hiding and watching the fight.
Perfect Cell then creates seven Cell Jr. and has them attack the Z-Fighters. Gohan watches in horror and becomes angry as his friends are mercilessly beaten by the Cell Jrs. Meanwhile, the head of Android 16 convinces Hercule to throw his head to where Gohan and Perfect Cell are so that he may help Gohan. Now in Gohan's sight, Android 16 tells Gohan to not be afraid of releasing his anger and that it was okay to fight if he wants to protect the people and world he loved. Finally, 16 said to Gohan to drop his restraints and let it go because he has enough power and strength to defeat Perfect Cell. With Android 16's final words, Perfect Cell crushes Android 16's head, ending the peaceful android's life. Touched by Android 16's final words and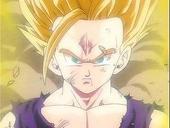 enraged by the peaceful android's death, Gohan's rage reaches its limits and transforms him into a new level, Super Saiyan 2.
Now in his new anger-fueled state, Gohan says to Perfect Cell stating that he will never forget what he has done. He approaches the android and quickly snatches the Senzu Beans that Perfect Cell stole from Krillin. Gohan teleports away in front of a Cell Jr., who attempts to strike Gohan, only to be easily killed by the enraged young Saiyan. Gohan quickly teleports to where Krillin is held captive by two of the Cell Jrs., something that Future Trunks realizes about Gohan increasing his strength and power without losing speed. Gohan rescues Krillin and kills another of the Cell Jrs. Seeing this new incredible power that Goku spoke of earlier, Perfect Cell orders all of the Cell Jrs. to take on Gohan all at once; however, Gohan easily kills all of Cell Jrs. without mercy, much to the amazement and shock of everyone, including Perfect Cell. After Gohan gives the Senzu Beans to Future Trunks to heal the Z-Fighters, he proceeds to challenge Perfect Cell.
As the Z-Fighters are healed by the Senzu Beans and get to a safe distance, Gohan battles Perfect Cell and gains the upper hand against the android. Perfect Cell unleashes his maximum power and punches Gohan hard in the face. However, Gohan is barely phased by Perfect Cell's blow and counterattacks with two powerful punches to the Perfect Cell's stomach and face, severely injuring the Android. Perfect Cell fires attacks used by some of the Z-Fighters, including the Destructo Disk, Special Beam Cannon, and Scatter Shot at Gohan, who easily brushes through the attacks. Gohan tells Perfect Cell that he should not have pushed him and because of that, he is going destroy him.
Perfect Cell flies up high into the air and fires a massive Kamehameha down at Gohan in an attempt to destroy the entire Earth. However, Just as the huge energy beam is about to hit the Earth, Gohan counterattacks with a bigger and more powerful Kamehameha, overpowering Perfect Cell's Kamehameha and destroying the android's legs, left arm, and the two straight sections on top of his head. Goku yells for Gohan to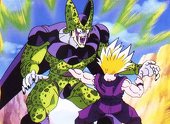 finish off Cell before he regenerates, but Gohan, still enraged at Perfect Cell's actions, refuses and wants Cell to suffer before he kills him. As Goku predicted, the enraged Cell regenerates and transforms into his Power Weighted form but even with his enormous power, he is unable to hit Gohan, making the same mistake Future Trunks made ten days ago. After Gohan dodges Cell's punches, he delivered two powerful kicks to Perfect Cell's face and stomach, making him regurgitate Android 18 and transform back into his Semi-Perfect form. In a fit of anger and desperation, Semi-Perfect Cell began a Self Destruction technique, planning to blow himself up along with the Earth. Gohan attempts to attack the self-destructing Semi-Perfect Cell, but the android replies that if he is hit, he will immediately explode. Hearing this, Gohan realizes that there is no way that he can save the Earth and blames himself for not finishing Cell off sooner. However, at the last second, Goku uses instant-transmission to transport in front of Semi-Perfect Cell. Goku tells Gohan how proud he is of son for putting up a good fight and to look after Chi-Chi. After a heart-felt goodbye to his son, Goku transports Cell away from Earth to King Kai's Planet where Semi-Perfect Cell finally explodes, destroying the planet and killing Goku, King Kai, Bubbles, and Gregory in the process. Back on Earth, Gohan and the other Z-Fighters mourn Goku's noble sacrifice. Realizing how cocky and arrogant he was, Gohan cries and blames himself for his father's death while Krillin tries to comfort him.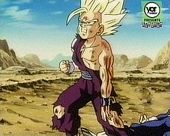 However, unknown to the Z-Fighters, Cell survives the explosion, regenerating from a lone cell in his core. Doing this effectively raised his power higher due to the Saiyan genes he absorbed from Goku and Gohan, and he also learned Goku's Instant Transmission technique, which he used to head back to Earth to destroy Gohan and the remaining Z Warriors. As his first act of return, Super Perfect Cell kills Future Trunks with one blast in front of the shocked Z-Fighters. Gohan was in fact pleased to see Super Perfect Cell had returned, hoping to defeat the android so he could avenge his father. Enraged by his son's death, Vegeta in a fit of fury and rage, transformed into to a Super Saiyan and attacked Super Perfect Cell with a powerful barrage of energy blasts. However, as the dust clears, Super Perfect Cell, emerges from the blast, unharmed, and smacks Vegeta aside to the ground and fires a powerful blast at the Saiyan prince. Gohan jumps in front of the unconscious Vegeta and takes the full-force of Super Perfect Cell's attack, costing him the use of his left arm.
Wanting to end the conflict, Super Perfect Cell prepares a massive Kamehameha wave to destroy Gohan, who loses all hope after having his left arm broken and seeing how much powerful Super Perfect Cell is now. However, at that moment, Goku telepathically contacted Gohan with the help of King Kai encouraged Gohan to believe in his power. When Gohan tells Goku it was all his fault that this happened, Goku reminds him that not only do things like this happen, but if anyone's to blame for it, it's Super Perfect Cell. With new found hope and confidence, Gohan prepares a one-handed Kamehameha, with the assistance from Goku's spirit. With their attacks finally charged and ready, Gohan and Super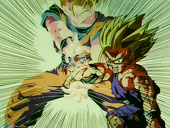 Perfect Cell fire their Kamehameha attacks at each other, resulting in a huge energy beam struggle that knocks away everyone else. During the Kamehameha duel between Gohan and Super Perfect Cell, Super Perfect Cell has the upper hand against Gohan. However, Gohan, still aided by his father in Other World, is able to charge more of his power into his Kamehameha, seemingly bringing the energy duel to a standstill. The Z-Fighters, except for Vegeta, also help out Gohan by blasting Super Perfect Cell, who retaliates by knocking all of them away with his energy, rendering them unable to help Gohan. However, just as Super Perfect Cell is about to destroy Gohan, Vegeta, after regaining his confidence, aims at Super Perfect C
ell's head with a small Big Bang Attack, distracting the android. Seeing this opportunity, Gohan (encouraged by Goku) unleashes all the rest of his power into his Kamehameha, completely destroying every cell in Super Perfect Cell's body, dispatching the android once and for all. Having successfully won, Gohan reverts to his normal state and collapses to the ground, breathing heavily and smiling as Goku in Other World expresses how proud he is of his son for finally defeating Super Perfect Cell and saving the world.
Following Super Perfect Cell's defeat, the Z-Fighters and Gohan return to Dende's Lookout, where he is healed by Dende. With the newly recreated Dragon Balls, they summon Shenron and wish for all of Cell's victims to be revived. However, Goku does not come back and telepathically contacts the Z-Fighters on the Lookout. Goku tells them not to revive him and explains that he seemed to attract evil villains that were after him, so the Earth would be safer if he weren't there. He also said that Gohan had greatly surpassed him and if there were any other threats, Gohan would be there to defend the Earth. With the conversation over, Gohan and the Z-Fighters say their goodbyes to Goku and to each other before leaving the Lookout and going their separate ways, leaving the Earth safe once more.
The Great Saiyaman
Edit
Se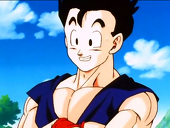 ven years after the events of the Cell Games, Gohan lives at home with his mother and his seven year old brother named Goten. His training has taken a backseat to his studies, and his strength has been surpassed by
Vegeta
and Goku. Chi-Chi decides Gohan needs to attend high school to finish his education. On his first day, he turns Super Saiyan (in order to conceal his identity) to stop a robbery, and by the time he arrives at Orange Star High tales of the newest hero, "Gold Fighter", have already spread (which name was actually given to him after two previous incidents while going to the school to take entrance exams). In class he meets another crime-fighter and the most popular girl in school, Videl. She is the daughter of Hercule, who go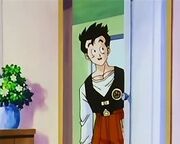 t rich and famous for stealing Gohan's credit over the defeat of Cell. Videl is highly suspicious of Gohan and spies on him to see if he's really the Gold Fighter. Videl confronts Gohan several times to voice her suspicions but Gohan nervously denies them. Gohan decides to use a disguise when fighting crime and goes to Bulma to make him a costume. He becomes the Great Saiyaman to hide his identity so that the media will not bother his family. But while trying to convince Videl to let him return a stolen dinosaur to its two pterodactyl parents, he accidentally reveals his identity t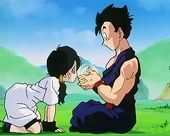 o Videl, who then blackmails Gohan to compete against her in the newly revived World Martial Arts Tournament in exchange for her silence. Gohan, having no experience with kids his own age, especially girls, is helpless against the confident Videl, who makes him promise to teach her to fly.
When Gohan tells Bulma about the tournament, Goku, listening in from the Other World, contacts them and tells them he'll compete too, using his one-day pass to the human world. Hearing this, Vegeta also decides to compete. To make it more interesting, and to give them a chance to meet Goku again, Gohan tells all his friends about the tournament, and they all decide to compete. While Gohan trains with Goten, he is shocked to see Goten transform into a Super Saiyan, breaking his record as the youngest Super Saiyan ever.
When Videl shows up at Gohan's home to learn to fly, Gohan learns that she has no knowledge of energy, since her father believes it to be just a trick. Gohan begins training her from scratch, though she picks it up pretty quickly. During his training of Videl as well as his brother Goten, Videl learns more about Gohan and grows closer to him. Goten lets it slip that their dad is coming back from the dead to compete, but Videl brushes it off, assuming that their father left them.
World Tournament
Edit
As the Z-Fighters arrive at the World Tournament, Goku, who had been in Other World training for seven years, arrives on Earth and meets his second son, Goten. As the tournament occurs, the Z-Fighters easily brush through their matches. Later, however, when Videl fights Spopovitch, she is nearly beaten to death by the brute. Gohan watches in anger as his girlfriend horribly suffers at the hands of the ruthless Spopovitch. Finally, having seen enough, Gohan turns Super Saiyan and tries to save Videl from Spopovitch, but before he can, Yamu interrupts and tells for Spopovitch to finish the match because they have much more important things in the matter. Spopovitch kicks Videl out of the ring and leaves with Yamu, but not before being told by the angry Gohan that he will win the next time they fight.
After rushing Videl to the hospital and giving her a Senzu Bean to heal, Gohan returned to the tournament and found himself set up to fight Kibito. In order for the Supreme Kai and Kibito to find Babidi's ship, they're forced into tricking Gohan into turning into a Super Saiyan. However, Gohan states that there is a level beyond a Super Saiyan and transforms into his Super Saiyan 2 form, shocking the audience into thinking that he was the Gold Fighter. At that moment, Yamu and Spopovitch jump into the ring and Supreme Kai paralyzes Gohan when he is about to attack. Yamu and Spopovitch steal Gohan's energy, reverting him back to his normal state, and fly off, with Supreme Kai and the other Z-Fighters in pursuit. Kibito heals Gohan, restoring his energy and explains they are going after Spopovitch and Yamu to find Babidi's ship. Gohan and Kibito, along with Videl, fly away to meet up with the Z-Fighters.
Babadi, the evil wizard
Edit
Cite error: <ref> tags exist, but no <references/> tag was found