Transformed at Last is the twentieth episode of the Frieza and the ninety-fifth overall episode in the uncut version Dragon Ball Z series. The original Japanese title is "Tsui ni Henshin!! Densetsu no Supa Saiya-jin Son Goku". The episode first aired on June 19, 1991.
Frieza has survived, and he continues his vicious assault against
Goku
. A brave sacrifice from the lion hearted
Piccolo
saves Goku from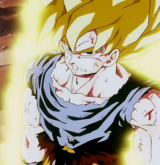 certain destruction but has left himself on deaths door, and the next man on Frieza's hit list,
Krillin
, is blown to smithereens with a vicious attack. Krillin's death is too much for Goku to bear, causing a transformation unlike any he has experienced before. But what does the golden transformation mean, has the Legendary
Super Saiyan
emerged at last?
The Super Saiyan form makes it's first appearance.
Goku (Super Saiyan) vs. Frieza (50% final form)
As Goku and company reunites and celebrates their alleged victory, right before Frieza reappears, the water is blue, whereas Namekian water is green.